Top Instagram bots are very, very similar.
Top Instagram bots share features, so choosing the best for you is about time commitment. Some are easier to use than others, so they have a steeper learning curve. Is it worth putting your time into? Not really, you have better things to deal with I assume. Automation tools for Instagram all share a baseline list of features and are priced similarly. I don't recommend everyone to use Instagram bots, since automated activity is monitored much more closely for different niches and different industries. The most popular affiliate niches are a great example of this – fitness, health, vapes and anything marijuana-related are risky to automate activity. It could bring your business to the next level or absolutely destroy everything you've worked for. Your call.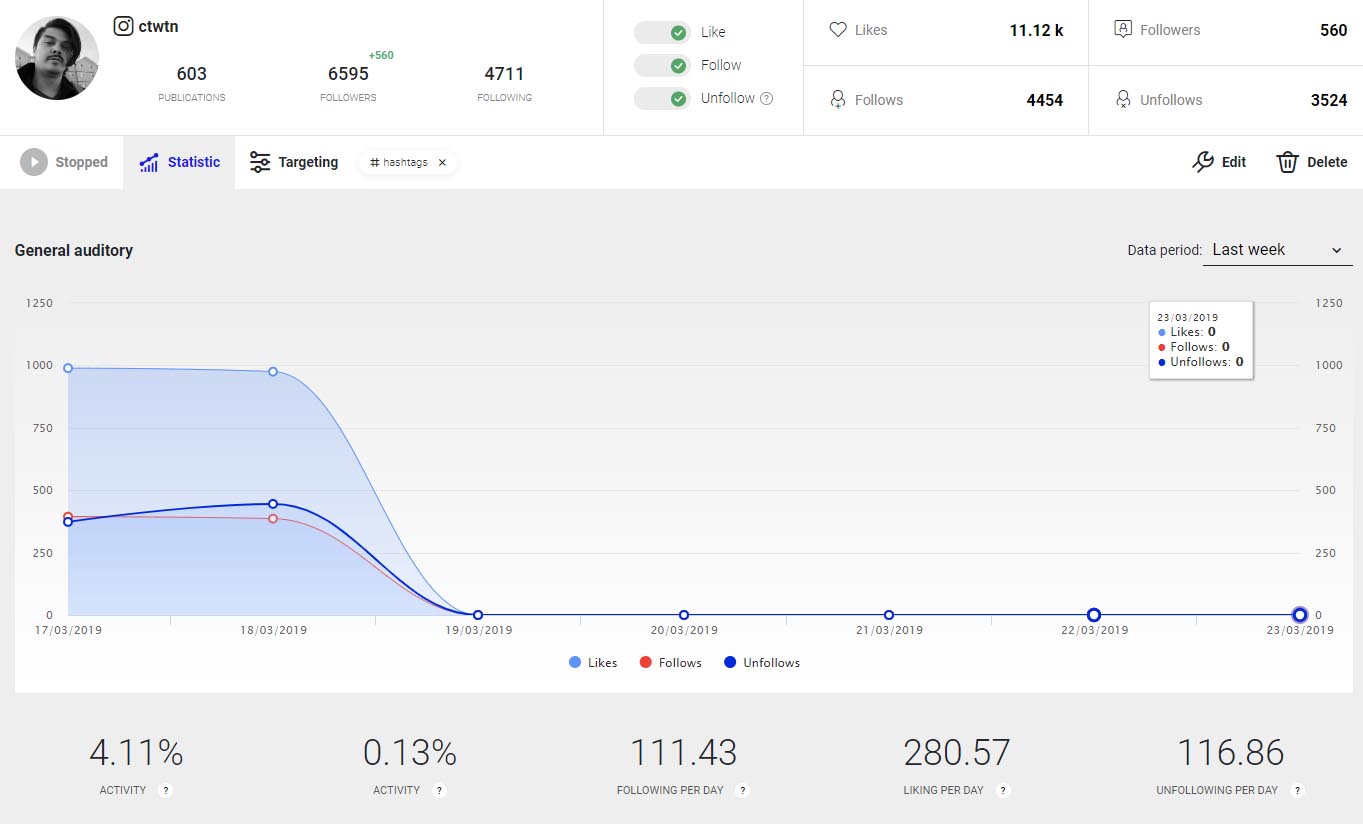 While it isn't the cheapest Instagram bot for gaining new followers, it's by far the most effective. You've got more important things to deal with, right? Once you've set up your account and a handful of hashtags to target, you can just stop thinking about it altogether. Ingramer's default settings are impressive and will bring in results without fail. That said, it's not to be written off by those who are more experienced with automation or growth hacking either. Ingramer has some very in-depth targeting options that will allow you to manually optimize over time. I just really love this analytics view too, never seen this before from an Instagram bot!
RIP Instagress 4/20/2017
For a long time, I considered Instagress the best Instagram bot / automation service on the market. The most reasonable price point, targeting options and amazing customer support. Unfortunately for Instagress, Instagram updated their ToS so that 3rd party services using their API weren't allowed to use "Insta", "Gram", or "IG" in their product name. Before this, you were allowed to use at most 1 of them, so the name Instagress was fine. Many major publications are misreporting that Instagram is shutting down automation tools but this isn't the case.
Ingramer is the best alternative to Instagress.
People are in a panic now looking for alternatives, so this article will give you a few options. I  personally haven't had enough time with these options so for the time being, you'll have to make your own judgment. I'll be periodically updating this article to reflect my experience and insight on Instagram automation. For now, let's review services I've used and ones that others have recommended that I'll try out later on.
The 6 basic features of any top Instagram bot are the following: liking, commenting, following and unfollowing, viewing Instagram Stories and sending DMs. Actually, when you think about it, these are the only 6 actions you can take when interacting with someone on Instagram. Period. Automating these activities comes down to a few settings, but the premise is this: You set hashtags you want to interact with and the bot does it for you. This goes back a couple decades, but I'll say it: Computers aren't smart. They think very literally. They'll only ever do what you tell them to do. This means that researching which hashtags to focus on is crucial to success. One wrong step and your account will be suspended or banned.
Hashtag research is the single most important part of using top Instagram bots.
If you're going after a hashtag that shitty marketers and spammers are using, you won't get far. You need to go into a hashtag search and go through photos for hours on end before deciding to add it to your automation targeting. If 95% of the content matches the hashtag, you're golden. I've ran into this problem myself going after regional hashtags like #Bangkok and #Shanghai. Marketers ruin everything and hashtags are no different. Tons of spam accounts and people are frankly are quite vain were using these hashtags to attract likes from people like me who use bots to automate activity. They're useless to me. They aren't in my target demographic, so my following became diluted by these people. That's the result of poor hashtag research. You end up following and liking content that's irrelevant to you and sooner than you think, your followers are irrelevant to you as well.
What Instagress did so well was that they were always developing new ways for marketers to target the audience they want. They added geotagging as a filter option, meaning you could go after users who have been to a specific location. They added advanced filters, so you can choose exactly who you're going for. They added simultaneous follow and unfollow cycles, something no other Instagram automation service offered at the time.
Let me put things into perspective for you on just how targeted they allow you to go. In February, I was traveling the southern islands of Thailand. Using Instagress, I was able to automatically leave comments on photos people took within the last 2 weeks on a specific area of an island in Thailand, using hashtags that I specified (so that I was only going after backpackers) and within a certain follower range (500-2000 followers). What was I commenting? I was asking these people for restaurant and hostel recommendations. Boom. 80% reply rate. You can't beat that level of targeting.
Instavast is one of the cheapest Instagram bots on the market, but it's incredibly powerful. It takes a likeness to Instazood or BigBangram with very similar features at a lower price point. I highly recommend it as an entry level Instagram bot. They've got great resources on learning how to use automation more effectively and its features are very intuitive.
3. BigBangram ($15 / mo)
Easily the best alternative to Instagress in 2018. I only hopped on board recently after reviewing a long list of automation services but I couldn't be happier. The automation speed is great, they have solid proxy options and post scheduling is as advanced as it gets. You can even schedule the first comment on your posts to leave your list of hashtags. There's not much I can criticize BigBangram for, honestly.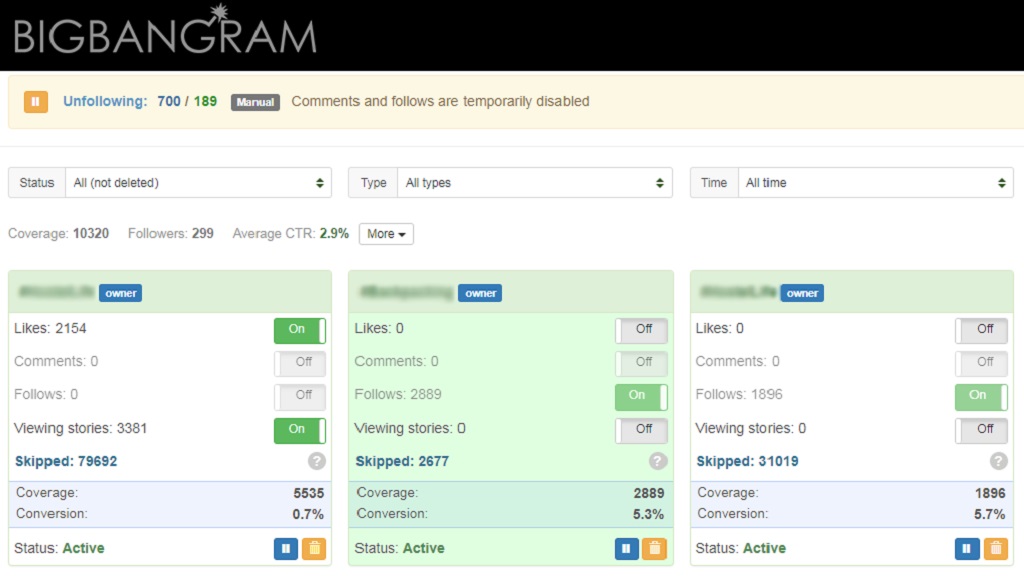 What's been your experience with Instagram bots? Are you using something else altogether? Let me know in the comments, I'd love to hear about services I haven't tried out.