My top Instagram automation picks for 2018 are here!
Was your New Year's Resolution to take your brand growth more seriously?
2017 has been a crazy year for not just Instagram bots but Instagram as a platform overall. Our Instagram posts are no longer restrained to a square resolution. Stories were added to put a damper on Snapchat's user growth. Instagram automation tools got a very Game of Thrones like treatment. Dropping like flies at the hands of Instagram itself, countless new services have launched in their steed.
Let's pour one out for all the homies that died in 2017. Instagress on 420 and MassPlanner on 5/13/2017. It's such a shame because both products took different approaches to automation. Instagress was all about ease of use and in-depth targeting options. Set it and forget it. MassPlanner on the other hand, was a powerhouse Instagram bot that could run multiple accounts seamlessly. It was the most powerful service without a true competitor. I've yet to find direct replacements for either service but there are a few that host the spirit of badass Instagram automation.
Apologies for how long it took to put out this article – it's taken much longer than I expected to be review so many services. Whenever it seemed like I was a few weeks away from being done, new companies would hit me up with free trials asking for a critique. To be fully transparent, this article contains affiliate links to services I truly vouch for. Sign up through me if you find value in my transparency and the value I've brought through my other Instagram strategy articles. Anyway, let's hop into it. I've excluded services I found not worth the price and ones I couldn't gain Instagram followers in droves. These are the best of the best.
Note: This article was updated on 3/23/2019 to showcase new services I've tried out and to give a more recent outlook on older platforms as well.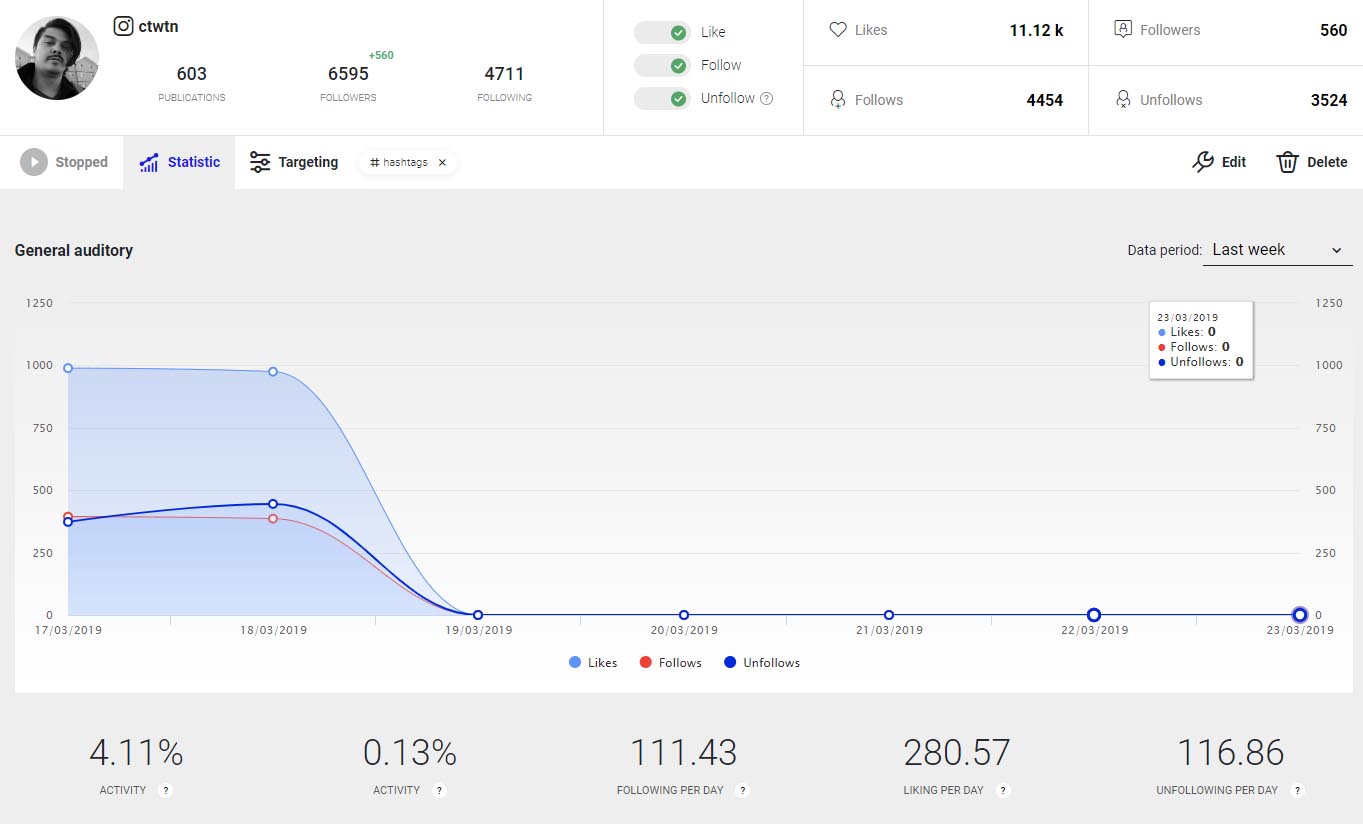 Ingramer is where I'm putting all my marbles for the future of Instagram automation. Not only have they successfully implemented in-depth targeting features that its competitors don't have, but their default settings are great for beginners too. On top of that, they've got visualized your automated activity and growth in an easy to understand chart. Unlike the other services on this list, you'll be able to know exactly where your automation efforts are going and how effective they are from a quick glance. Just compare the above screenshot with the other dashboards on the list and you'll see what I mean.
Use promo code TWETEN when signing up for Ingramer to get 38% off!
BigBangram ($15 Monthly)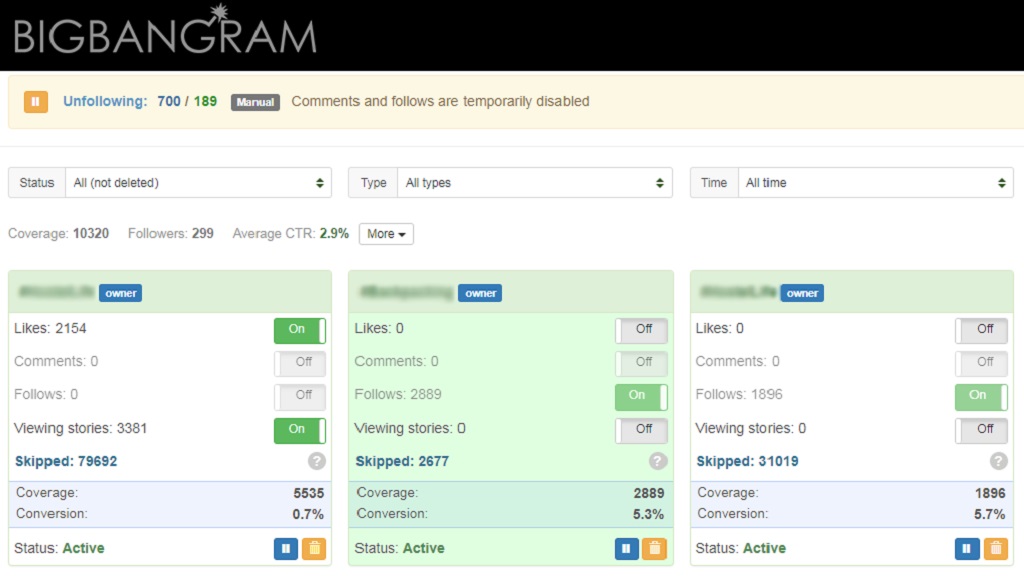 BigBangram. Such a suitable name for an Instagram growth asset. In the beginning, there was nothingness. The absence of anything conceivable. And then the big bang happened. Rapid expansion and growth. That's what BigBangram is all about. It provides you with in-depth analytical tools, powerful automation options and a user-friendly interface to take your Instagram account to the next level. While this may sound like your typical Instagram automation service, it's far from it. It's the top Instagram bot on the market right now, hands down. Here's what sets it apart from the competition:
Free proxy setup to match your location, greatly reducing the risk of a shadowban.
 Conversion metrics and analytics for each individual promotion you run. See the screenshot above for an example of this.
The ability to target only real accounts and potential customers. No bots, no marketers, none of that bullshit.
First comment privileges. Yeah, that sounds weird but it's a godsend. We're entering an age where we don't have to keep our phone handy at the time of posting to leave a comment with our list of 30 hashtags. With BigBangram, you can write up the first comment on your post and it'll automatically add it at the time of posting. Huge time saver.
Comment tracking that's not only on par with Iconosquare, but with a user interface that's even easier to use for rookies.
If you're still not sold on this, they offer a free 3 day trial. Give it a shot. See what kind of results you can get in that time frame and then upgrade to a paid account for just $15 per month. What do you have to lose?
Let me start off by telling you this is the cheapest Instagram bot on the market. Instavast is super cost-efficient considering it has some strong features for a basic service. Aside from the standard auto liker, commenting and (un)following, it offers quite a bit for the price point of just $10 per month. Instavast allows you to schedule your posts in advance and mass unfollow accounts. Post scheduling generally isn't included in Instagram automation services (or it's an upsell), so it's a nice surprise. Mass unfollowing typically isn't offered either, possibly because it draws attention to your account in the moderation system. Unfollowing too many people in a short amount of time can get you shadowbanned; I've seen it happen to a few friends.
What I really love about Instavast is how it tracks performance of individual hashtags. When I originally published this article back in December 2018, it was the only service on the market that offered this at a reasonable price point. Nowadays, it's starting to become the standard. I used to have issues with this, charting performance of hashtag lists against each other. I'd have to eliminate single hashtags with guess work after swapping them in and out. Talk about a challenge. For anyone that just wants to set up a bot and leave it to do its thing, Instavast is a great choice. Choose a few hashtags, set it to target people who liked content with it and you're golden.
Archie had a stint where it was shut down earlier this year but it's back stronger than ever. Great service in the middle price range with some real force to it. Truthfully, I haven't used Archie in a while and can't speak on its current state. However, one of the main draws to the platform is that it's quite easy for beginners to use. Its targeting options aren't as advanced as Instagress' were but that means there's less of a learning curve.
Power for price. That's what you're getting when you commit to InstaMacro. Automated actions can happen more rapidly and aggressively on this platform, making it more suited for experienced users of Instagram bots. If you're on the fence about InstaMacro, my suggestion is to sign up for Instavast and see how well you fare. If you can get reasonable follower gains, switch over to InstaMacro. While most Instagram automation services are very similar, I found it harder to use this one. More accurately, I found it harder to gain enough followers to justify the price tag. Get some experience under your belt before tackling this beast.
Reminder: Automation is a tool, not a solution.
I wouldn't be a responsible marketer if I didn't add this disclaimer to the end of this article. I've said it many times in past articles and it never feels dated. Growing your brand manually should come first. Put in the time and effort into your research before scaling up. It's a lesson straight out of The Lean Startup. If you have other services you'd recommend, I'd love to hear your input and how they measure up to these ones. And I'm not just talking about the price tag, I want to know about ease of use, features and how aggressive you can go.
Cheers to your Instagram success in 2018.