"Press F" is a phrase for the ages.
The etymology of "F" or "press F" spawns from an out-of-place moment in Call of Duty: Advanced Warfare.
The protagonist, Private Jack Mitchell is attending the funeral of his best friend who died while fighting in South Korea. While this should have been a tense moment in the game, a prompt that is mandatory for progression in the game appears on screen:
Press F to Pay Respects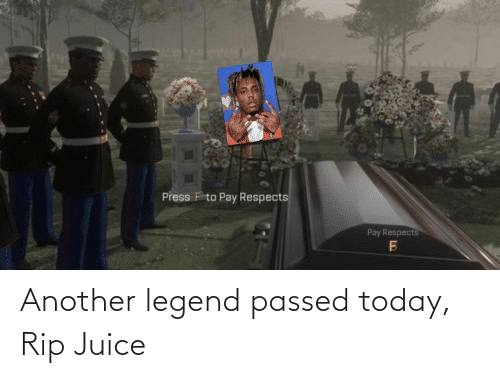 Any tension or emotional commitment to the character immediately falls flat. While comedy is rooted in subversion of expectations, this was not the intention of Activision, the game's publisher. And thus, a meme was born.
Countless edits of this screenshot have been made, replacing the soldier's portrait with deceased celebrities, Chance the Rapper's career after proclaiming his love for his wife, politicians, etc.
The letter F is now a form of paying respects – in mourning, in jest or in commemoration.
The Colloquial F in Livestreaming
Live streamers have adopted this meme in the form of a CTA (Call to Action) to engage their viewers with the popularized phrase, "Can I get some Fs in the chat?"
This CTA is most often used when something unfortunate happens, typically with mixed emotions of humor and sadness.
I'm no stranger to the meme game. Although I did take a much-needed break October 2019 to mid-January 2020, the spark to make memes never faded. I've brought back one of my staple meme pages, Please Press F.
Facebook censorship is getting rougher and rougher, so I'd like to just enjoy the time I have a large, established audience while I can. Let's ride it out until the Zuckergod taketh away.
Can I get some Fs in the comments?